Caftan and our inspirations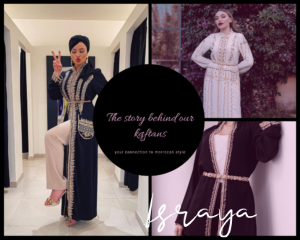 Caftan , Kaftan or khaftān in Persian, you can use all these words to describe the most famous Moroccan outfit.
On the other hand, Moroccan or not, no one can deny the beauty of traditional Moroccan outfits. Israya offers you a variety of Kaftans, made with delicacy and precision to show how majestic Moroccan outfits are!
If you are from France or Belgium and want to treat yourself to authentic Moroccan dresses, then you have come to the right place!
From Caftan to Kimono , the famous Takchita and without forgetting Djellaba , Israya offers only the best.
Our family roots
The inspiration behind our Caftans started early with our father who was the first on the Belgian market to offer this type of traditional sewing thread.
During this time, our father quickly got us involved in the work.
As a result we sold his products with him, we familiarized ourselves with the profession and the trade.
The Caftan: The ultimate Moroccan heritage
This is why we wanted to give the incredible Moroccan heritage of traditional outfits the good representation it deserves.
And after Israya came to life.
The Caftans of Israya are present in your family events
Celebrating our origins
For Israya, nothing is more important than family.
The name ISRAYA being a fusion of the first names of our respective first children: Aya and Isra.
These two little princesses motivated and inspired us even more in our project. Today, we see our brand as this baby project brought to constantly evolve like our daughters who grow up day after day before our eyes.
We remind you of those nostalgic, happy and beautiful moments with your family at home. A wedding or Khotba, for example.
For ISRAYA, origins are everything and what better way to celebrate our origins than to wear our beautiful outfits with nothing but pride?
Our Kaftans are delivered all over the world
Let's show how big and diverse our heritage is with ISRAYA!
If you want to buy one of our amazing traditional outfits but you are not Belgian / French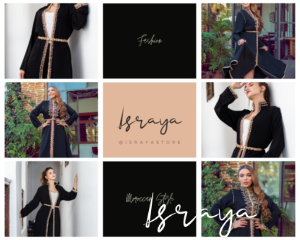 Do not worry ! We deliver all over the world.
In other words, you'll get one of our great outfits wherever you go.
Caftan
,
Djellaba
,
Takchita
or
Kimono?
The choice is yours and it's up to us to deliver nothing but the best.
In addition, the bright and warm colors fit perfectly with our brand. We think in a fun, enthusiastic and young way.
Our brand is available to serve and satisfy all women.
In conclusion, ISRAYA is not just a traditional clothing brand.
It is above all the link between North Africans all over the world and their origins.