Caftan: 5 things you should do before wearing it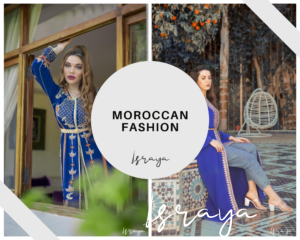 Caftans come in all different colors , patterns and shades .Learning how to style it in a fashionable classy way can be challenging to a lot of ladies.So if you are looking for tips when it comes to wearing your Caftan you came to the right place .
If you want to read more about the inspiration behind our Caftans, you can read our blog: https://israyastore.com/fr/caftan-et-nos-inspirations/
But before you get into your beautiful Moroccan dress , you should start with the essentials.
Let's start with the size of the Caftan
First we are going to start with the size.
You may have found a gorgeous , magnificent Caftan that will make all heads turn in a party but once you wear it , something doesn't look right.
This my dear is the struggle of many women.
Picking a great Kaftan isn't good enough if you can't choose the right size for you.
Pick the right size
Israya is here to make choosing the right size for your morphology way easier.
We offer you a different collection of traditional Moroccan dresses in different sizes.
How to do it?
To pick the right Caftan for you you should measure from under your armpit to the middle (between your breasts) .
Follow the following sizes in centimeters to know your size.
Now after you choose the perfect size and K aftan for you , we can get to the next important element.
Find the right fabric for your Caftan
The second thing to choose is the right tissue for your Caftan .
It depends on where you intend to wear it.
If you are going to a more laid back party like an evening with your best friends , you can go for flowy fabrics that are made with cotton or other natural fabrics.
On the other hand , attending an important event requires an upgrade because flowy fabrics can not give you the look you are looking for .
Having said that, choose rayon, georgette, satin or silk for a more formal event such as a huge wedding .
The right length
Thirdly: The length of the Caftan
This one is huge when it comes to choosing the right Caftan .
Israya offers you a variety of Caftans , short or long , It is up to you to choose.
Short Kaftans
You need to keep in mind the event that you are attending. If it is a simple family gathering in the afternoon, then a short Kaftan is the perfect choice for a casual event.
Long Kaftans
If you are attending a more important gathering a long Caftan would be the best choice .Mid-calf length – floor-length dresses add more style and class to your outfit .
The right shoes for your Caftan
If you are rocking a printed Kaftan , it would be wise to go with a nude or a one color shoe and vice versa if your Caftan is simple and not as colorful , then you can go wild with the shoes.
Last but not least: Accessories!
Everybody knows that accessories can either make or break your Kaftan.
Every Caftan needs a bag
When it comes to bags ,the trick is to have harmony and balance, small purses and bags (for a casual look), as well as clutches (for an evening party or formal occasions) .
Jewelery and Kaftans go hand in hand
And of course, jewelery is women's best friend.
It can take your Caftan to a very sophisticated look if you choose the right ones for you.
Finally if you follow these steps before wearing your Caftan , you will take everybody's breath away!